Row-by-Row 2018
The theme this year is "Sew Musical" so watch for some creative musical quilt designs.... and Yes, I will be participating in this year's Row-by-Row. I'm so excited about the theme since music is almost as big in my life as quilting! Watch for my Row-by-Row license plate, COMFRT ZON - which is the name of our band, The Comfort Zone (the "O"s are buttons!)

I will be open most Saturdays starting June 30 (10:00 am - 4:00 pm), and also by appointment.

Here's the design in the rough - still to be quilted, and I'll add a border as well. It measures 12" x 27" (finished size). I'm working on a version in pinks that is adorable! More to come...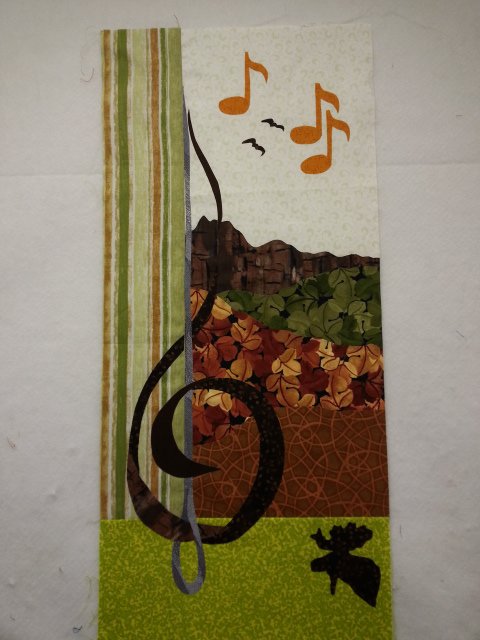 Row-by-Row 2017 "On The Go!"

I was part of the Row by Row Experience this year, and my design was a cruise ship, in honor of our local guild's fall cruise. Pattern and kits are now available. Another must-have: My Moose Country Quilts Row-by-Row license plate in brilliant lime green: QLTR 4 LIFE.

Planning a trip with friends? Give me a call before you come and I'll try to have a special demo ready to share! 
Here's a link to the Row by Row website and Idaho: Idaho Row-by-Row and if you just want to look at the
rows and license plates for each store, select the "RxR Picture List" icon on that website and you can scroll through
all of them. There's a listing of all the shops and their contact information under "RxR Travel List". 
Facebook fans, of course Row-by-Row is there too! Check out "Idaho Row by Row Experience" and you can see the
latest and greatest from both shop owners and Rowers! 
Currently open by appointment only, unless posted on my Home Page.
If you are planning your trip, I may be able to accommodate other dates and times. Just give me a call and let's see!
Artists' Studio Tour of Sandpoint - August 10-11-12, and 17-18-19

I'm open 10 am to 4 pm each of those days of the Tour, and I look forward to seeing you!

What is the Tour? 
The Artists' Studio Tour is a self-guided tour in and around the Sandpoint, Idaho area where local artists invite the public into their personal studios. Brochures and maps are distributed around Sandpoint and local communities, and can be viewed online at Art Tour Drive.

Want to come look at the quilts and do some shopping on other days? Call and make arrangements. 
ArtWalk -

I am part of ArtWalk 2018, a display of art coordinated by the Pend Oreille Arts Council (POAC). Art by many POAC members will be displayed at the Bridge in Sandpoint (1st and Cedar streets) and at Sandpoint Plaza. I have five wildlife pieces in this display. For other art displays sponsored by our local Pend Oreille Arts Council, click this (
POAC
) .
ArtsGrowLearning Exhibit
This museum-quality traveling exhibit has taken a tour in our area, and will be traveling the rest of the state over the rest of 2018. If you happen to see it, check out the examples and text from students I worked with from Valley View Elementary in Bonners Ferry, entitled Fabric, Fact & Fiction. So far, the display has been to Bonners Ferry, Sandpoint, Coeur d'Alene, and Boise - at the Capital!! It's now in the Lewiston and Moscow areas, so check with your local arts organizations to see this wonderful collection of art.

"ArtsPowered Schools fosters dynamic and meaningful collaboration between classroom teachers and artists that culminate in artist residencies in schools across Idaho.      This presentation highlights the depth and relevance of arts learning for students and teachers, and celebrates the creative energy and expertise of Idaho's artists.       Professionally presented visual artworks, interpretive text, photographs and video vividly tell the story of ArtsPowered Schools residencies during the 2016-2017 school year." Exhibit provided by Arts Idaho .